New England Shellfish
Pemaquid Oysters & Little Neck Clams
Get You Irish On !
Saint Patricks Day 2018
Almost 20 years of not the usual Irish Fare
pre-orders & Reservations welcome … takeout ok!  everything made from scratch
Tricia's Homemade Irish Soda Bread
Irish breakfast~ Fried eggs accompanied by a homemade banger, rashers, Grilled Tomatoes, Scollins beans and Tricia's homemade soda bread. 11.00
Irish yellow broth~ a classic Irish porridge with chicken broth, Fledging Crow spinach & Irish oats 5.00 Small, 6.50. Large
Traditional Boiled Dinner~ fresh cooked New York State corned beef brisket, cabbage, carrots and potatoes, cooked just right and served with Tricia's soda bread and mustard sauce. 10 lunch /13.00 dinner
Inishmaan Stew~ Large sea scallops and bangers cooked just right and finished in yellow broth 16.00
Salmon Boxty~Potato crusted house smoked north Atlantic salmon folded into an Irish potato pancake with chives. Over glazed carrots dressed in braised leek and sour cream salat.16.00
Lamb Stew~ domestic lamb carefully stewed with roasted root vegetables, in UBU ale from the Lake Placid Pub & Brewery 15.00
Shepherds Pie~ a hearty mixture of all-natural lamb and beef layered with sweet corn, pan gravy and smashed potatoes topped with imported Irish Cheddar 12.00
Bangers & Mashed~ 3 All-natural homemade Irish sausages over colcannon potatoes dressed in onion gravy. 12.00
Colcannon Potatoes~ Tuckers taters whipped up with Fledging Crow Spinach, Imported Irish Cheddar, a touch "O" butter and salt 4.75
Homemade desserts 7.00
Simple Guinness chocolate cake
Buttermilk Custard with Blackberry Sauce
---
February  2018
This Post will Be Updated Daily as Our Plans Unfold For The winter Season!
Hearty Fast Food to help you recharge after a day out in the cold
Weds Little Plates Feb 21, 2018
Olympic Little Plates…. You need to come in to win!!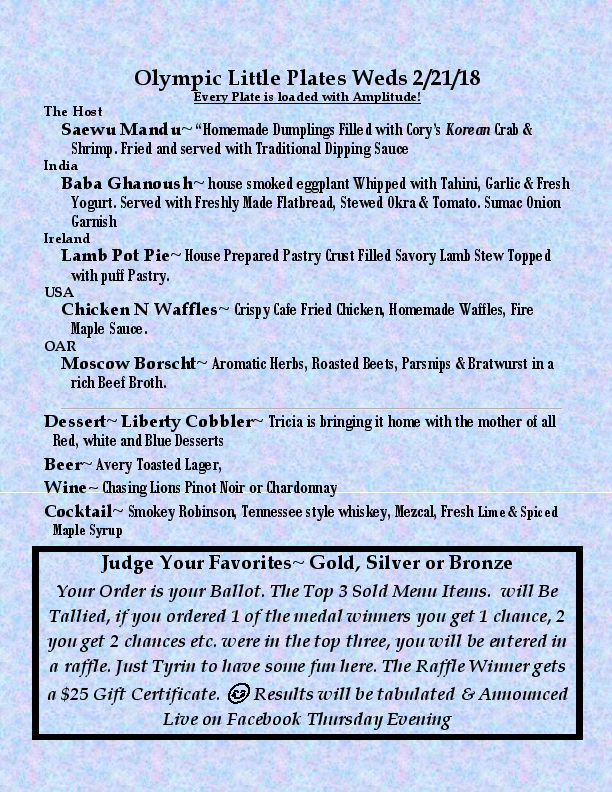 Valentines Day Little Plates 5-9 pm
Stews, chilis and of course our ever changing specials menus! Little plates on Wednesday night and late           afternoon cheese specials.
Late January & February  2018
Where To Start? We will be breaking out the smoker, look for House Smoked Trout, All sorts of Pork, Cheeses, Turkey, Chicken and Homemade Sausages as well as a variety of Seafood.
This Post will Be Updated Daily as Our Plans Unfold For The winter Season!
---
Watch For our "Original Thanksgiving"  Tapas Plates this week, Also We are breaking out the smoker so there will be a bevy of specials all week Long.
The Blue Moon
Will Be Closed
For Maintenance and Repairs
Mon Day Nov 13th , Tuesday Nov 14th
 We apologize For any Inconvenience
Wednesday is always time for Little Plates Check that post on the previous page
Fresh Swordfish is in the House!!
 You will find it featured each evening and some lunches till Friday
Winter Menus  are starting to come out!  With that comes our wonderful cafe chili: Chunks of beef and pork, pinto, kidney and white beans, A touch of fresh serrano peppers,  Served a variety of ways.
Magic Hat Heart of Darkness
Lameroux Landing Cabernet Franc , Saladini Pilastri Pecorino
Fresh Cider Martini
Cheese & Beverage Specials Daily 3-6 pm
Thursday- Back room Reserved for a Private Party 5:30-7:30
Fry Day- Hand Breaded Pan Fried Sole, Sandwich or Plate
  Fish & Seafood Specials