Little Plates @ The Blue Moon Weds 11/8/17
10.00 Ea. Or 3 For 25.00
 Skirt Steak~ Tequila, Lime Marinade With Agave Glaze Over Black Beans & Rice With Roasted Corn Cruda
Raquette River Beer Braised Pork Ribz~ House Prepared Harissa Paste Rub, Pear, Pecan & Honey Slaw
Swordfish~ Grilled, Served Over Roasted Garlic & Lemon Cous Cous with Homemade Caponata
Stir Fry Vegetable Bowl ~Soba Noodle, Fresh Vegetables, Honey & Spice Asian Glaze
Salmon Chowder With Roasted Corn & Leek, Miere's Fried Cheese Curd Garnish.
Beer~ Majic Hat Heart of Darkness, 10 Digit Dbl IPA
Wine ~ Saladini Pilastri Pecorino, La Tremnda Moneastrell
Cocktail~ Harvest Martini  Titos VodkAll Natural Apple Cider, Apple Jack, Caramel Rim, Served Up, Chilled.
Dessert~ Tricia's Boston Cream Pie
---
,Little Plates @ The Blue Moon Weds Nov 1st, 2017
10.00 Ea. Or 3 For 25.00
Dolma~ Fresh Ground Beef & Bulgar, In an Anaheim Pepper with Roasted Garlic Tomato and Grilled Local Haloumi Cheese from Meier's Farm. Try a Ramon Bilbao Crianza
Rusky Hunters Stew~ Bratwurst, Roasted Beets, Cabbage, North Country Smokehouse Bacon in a beer broth, Served with crusts for soppin!  Try a MARZEN BEIR
Potato Crusted Salmon~ Pan Seared with Leek Salad, Wilted Arugula, Cider Dressing Try Carnivore Zinfandel
Chicken Roulade~ Spinach, Roasted Red Pepper & Fennel, Sao Jorge Cheese, On a bed of Polenta with Vodka Sauce. Try Cartlidge & Brown Chardonnay
Mediterranean Flatbread~ Imported Olives, EVO2, Fresh Herbs, Red Onion, Heirloom Tomatoes, Feta and Grana Padano Cheese. Try Organic Saladini Pilastri Peccorino !
Dessert~ 6 Erika's Malva Puddin! A wonderful South African Dessert Cake Served with Crème Englaise.
Beer~ Great Adirondack John Brown IPA 5, Schmaltz 838 IPA 6, Bells Marzen Bier 4.50
Wine~ 8 Saladini Pilastri Organic Pecorino, Cartlidge & Brown Chardonnay,  La Tremenda Monastrell
Cocktail~ TnT~ 9 Hussongs Tequila, Tamarind-Lime Simple Syrup, Gingerale. Over Ice.
Little Plates @ The Blue Moon Weds 10/18/17 
10.00 Ea. Or 3 For 25.00
Fire Perch~ Gluten Free, Fried Buffalo Perch, Dilly Beans, Blue Cheese Sauce
Rye n Root Veg Stuffed Pork Loin~ Rosemary Roasted Potato, Celery Root, Cider Pan Gravy
Ali Nazik~ Seasoned Ground Beef, Bull Anaheim Peppers, Tomato on A Bed of Eggplant Puree.
Stuffed Zucchini~ Farmers Zucchini Stuffed with Parrano Cheese, Bulgar Wheat, Caramelized Shallots and Fennel, Laced with A Dill Yogurt Sauce
Ballontine ~ Boneless Chicken Leg Stuffed with Spinach, Fennel& Prosciutto on A Bed of Roasted Roma Tomato & Polenta . Topped with Feathered Sao Jorge Cheese.
Dessert ~ Tricia's Baked Apple with Candied Pecans & Your Choice of Hard Sauce or Ice Cream.
Wine ~ Lameroux Landing T-23 Cabernet Franc or Reserve Chardonnay.
Beer~ Adirondack Dirty Ale. Adirondack Brewery, Lake George, NY, 10-digit DBL IPA. Shmaltz Brewers, Clifton Park, NY, 16 oz. can.
Cocktail~ Smoke n Cider– Mint, Bozal Mezcal, Fresh Lime, a hint of serrano pepper. Shaken & Strained over Ice.
__________________________________________________________
---
---
Little Plates @ The Blue Moon Weds 10/11/17
Marrow Bones~ Balsamic Onion Jam, Gremolata, Croustade
Chimichurri Pork Empanadas ~ In House Prepared, Glazed with Fresh Yogurt Glaze. Yellow Pepper Chili Sauce.
Caramelized Garlic Shrimp ~ Chili Lime Soba Noodles Tossed with Arugula.
Chasseur Chicken~ Stewed Chicken with Porcini Mushroom, Tomato, Fresh Herbs And
Tagine~ Harissa Spiced Garbanzos, Root Veggies from The Farmers with Roasted Acorn Squash!
===========================================================================================
Dessert ~ Rum Raisin Bread Puddin, Hard Sauce.                     Dbl Chocolate Layer Cake.
Wine ~ Boen's Pinot Noir, La Tremenda Monestrell, Kung Foo Girl Riesling, Cartlidge & Brown Chardonnay.
Beer~ Whale's Tale Pale Ale, 4 Beaver Bite IPA, 16 oz. can, 5
Cocktail~ The Stonewall~ 9 Plantation Rum, Gingerette, All-Natural Apple Cider & Ginger Beer, Shaken & Strained Over Ice with apple & Lime.
Thank You!!
Watch For Our Octoberfest Menu Late This Month
Little Plates @ the Blue Moon weds 10/4/17
10.00 ea or 3 for 25.00
Curried Shrimp ~ In a Green Tomato w/ Apple, Bulgar, Red Curry Sauce.
Glazed Celery & Carrots ~ Red Chili's & Dill. Served With Grilled Flatbread.
Burmese Meatballs ~ Piquant Tamarind Tomato Sauce
Lox Baklava ~ House Cured Lox, Layered With Fledging Crow Spinach, Caramelized Red Onion, Hardboiled Egg, Orange Honey.
Char Sui Chicken ~ Fresh Chicken Breast, Chinese BBQ,      Ni'an Gao, Sesame Ginger Salad.
Dessert 5 Tricia's Pumpkin Cheesecake
                      Double Chocolate Cake
Wine~Lameroux Landing Chardonnay- 8
Kung Foo Girl Riesling- 6,  Boen's Pinot Noir- 8
 Beer~ Whales Tale Pale Ale-4,
Great Adirondack Whiteface Stout- 4
Cocktail~ Maple Bacon Manhattan- 9 Amarena Cherries, Applewood Smoked Bacon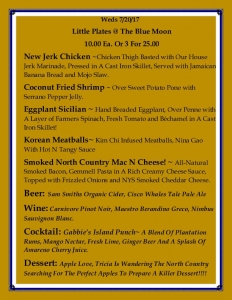 Little Plates @ The Blue Moon Sept 13th
10.00 Ea. Or 3 For 25.00
Pheasant- 2.00 Upcharge, Organic NYS Pheasant Breast, Brined, Grilled and Finished in A Super-Hot Oven. Rosemary Roasted Potatoes and Fresh Blackberry Coulis… NYS Lameroux T-23 Cab Frank
Chicken N Waffles~ Fried Chicken Breast Over Homemade Waffles with Candied Bourbon Bacon and Fire Maple Syrup…. Maestro Berandino Greco
Hawaiian Pork~ Caramelized Pineapple, Poke, Wrapped in Pork, Grilled. Nested in Sticky Rice with Charred Scallion Marmalade. NYS Lameroux T-23 Cab Frank, Kung Foo Girl Riesling.
Sharshuka ~Fried Zucchini, Eggplant and Squash Simmered with An Egg in A Smoked Paprika Tomato Sauce.  Carnivore Pinot Noir
Crab & Roasted Corn Stuffed Roma Tomatoes~ Over Farmers Arugula with Cracked Pepper and Citrus Aioli. Chasing Lions Pinot Noir
Dessert ~ Lemon Ricotta Cheesecake
Beer ~ Raquette River Pale Ale 22oz 8, Sam Smiths Organic Cider, Whiteface Stout.
Wine ~ See Our Pairings~~ Recommended Wines 7.00 glass
Cocktail ~ Smokey Robinson, Tin Cup Whiskey, Bozal Mescal, Spiced Maple Syrup, Fresh Lemon Juice.
Blue Moon Café Little Plates    
   Weds 8/16/17           9 Each … 3 For 24
Salmon & Spinach Baklava~
Layered Local Spinach, House Cured Lox, Caramelized Red Onion with Capers in Phyllo.  Dressed in Dijon Dill
Pagoda ~
Beef Tenderloin Glazed with House Prepared Char Sui, On A Bed of Braised Asian Greens, And Nian` Gao. Toasted Sesame Garnish.
Mole Poblano~
Fledging Crow Poblano Pepper Stuffed with Bulgar, Roasted Tomatoes, Leeks Summer Squash, and Raisins. Dressed with Our House Prepared Mole Sauce.
Lemon Caper Chicken ~
All Natural Herbed Drumette, Savory Lemon Velloute On a Nest of Fresh Pasta.
Buffalo Shrimp ~
Jumbo Shrimp in A Light Spiced Batter with A Wedge of Blue Cheese and House Pickled Veggies.
Beer ~ Kentucky Bourbon ale, Paradox Beaver Tail Pilsner
Wine~Lorimer GrunerVeltliner ~  Boen's Pinot Noir, Lameroux Landing Chardonnay
Dessert~ Luschious Chocolate Goodness!
Weds 8/3/17
9 each … 3 for 24
Carpaccio                                                         
Paper Thin Filet Mignon Dressed With Caper Berries And Roasted Red Pepper Coulis Over Farmers Arugula Dressed With Olive Oil, Sea Salt And Cracked Pepper.
Scallops ~
Pan Sea Scallops On A Bed Of Swiss Chard With Preserved Lemon Cous Cous.                                                                                                          
Maries Eggplant Pie~
Roasted Eggplant And Tomato Layered With Fresh Mozzarella And Basil, Wrapped In Phyllo, Served Over Greens.
Cordon Blue~
Fresh Chicken Breast Stuffed With Ham And Locally Produced Cheeses, Crusted With Herb And Tarragon, Lightly Pan Fried. With Harricot Verde.
Beer**~ Paradox Pilsner 16oz, Big Tupper Summer Ale, Great ADK Brewery John  Browns IPA
Wines~ Boens Pinot Noir, The Seeker Sauvignon Blanc, ** Lois Gruener Veltliner.
Cocktail~ It's a surprise!!
Dessert~ Crème Brulle' Mousse, With Caramel Cracklins
       Little Plates, Wednesday 07/19/17
Enjoy Any 3 Of Tonight's Selections
9.00 Each Plate 3 For 25.00
Southwestern Empanadas~ Local Pork And Beef With Roasted Corn And Acorn Squash. With Fiery Ancho Lime Dipping Sauce
Wedge Salad~ A Head Of Butter Crunch Lettuce With All Natural Uncured Bacon Ribbons, Fresh Farmer Tomatoes, and Aunt Houima's French Blue Cheese Vinaigrette.
Adobo Chicken~ All Natural Chicken Braised with Garlic, Ginger Rice Wine And Bunching Onions.  
John's Salmon Cake~ Vargo has risen!  On A Bed Of Frizzled Leeks & Kale with Creamy Parsley Sauce.
Shrimp, Prosciutto & Melon~ Large shrimp & Honeydew Mellon, Skewered, wrapped with prosciutto and grilled. Served over greens with mandarin balsamic reduction.
Beer ~ Adirondack Brewery Beaver Tail IPA, Raquette River Pale Ale
Wines ~ The Seeker Sauvignon Blanc, La Firme Rouge
Cocktail~ Dark & Stormy ~ Old Tennessee Ginger Beer, Meyers Dark Rum, Fresh Lime.
Dessert- Fresh Summer Berry Surprise!    We have so many great things to work with we are waiting to see the results!  Tricia is on it😊